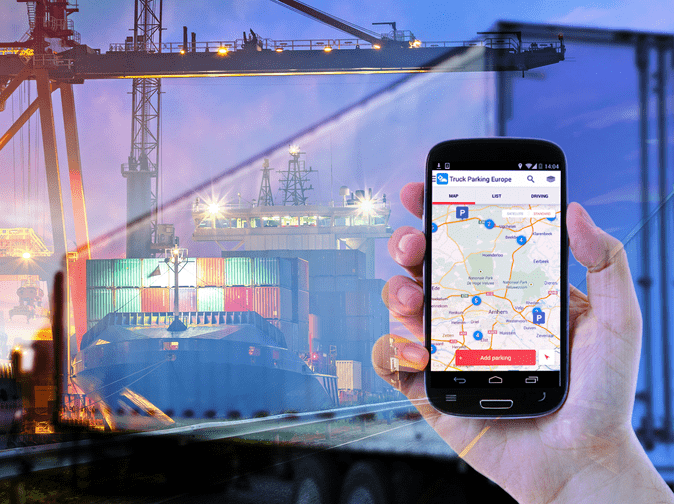 Logistics app development technology
What is the first picture that crosses your mind when you think of a logistics app? Most of the readers will surely think of Uber or any other taxi application, which helps people to get from one place to another.
However, it is a huge marketplace, which engages thousands of products and services. It is the area, where enterprises and individuals struggle to take transportation and logistics to a new level. It is a sphere, where lots can be done and new players have a chance to occupy a necessary niche.
Logistics apps aim to help developers to reduce costs, speed up the delivery process and add flexibility to transportation. For shipping lower costs may play a crucial role when choosing a logistic company, while speed of the delivery may save additional expenditures. That is why it is impossible to overestimate the importance and relevance of logistics apps and today I will try to give you all the necessary information on how such apps work. You will be able to get acquainted with their main features, key factors and tools to make your own project profitable and up-to-date.
Transportation industry is definitely a complex area and you will need to work really hard to develop a useful and top-notch app, as unlike a simple entertainment tool, it contains lots of specific tools, which require time and attention. But don't worry! With this article, you will easily find the best way to create a modern, effective and profitable app to enlarge your business and increase profits.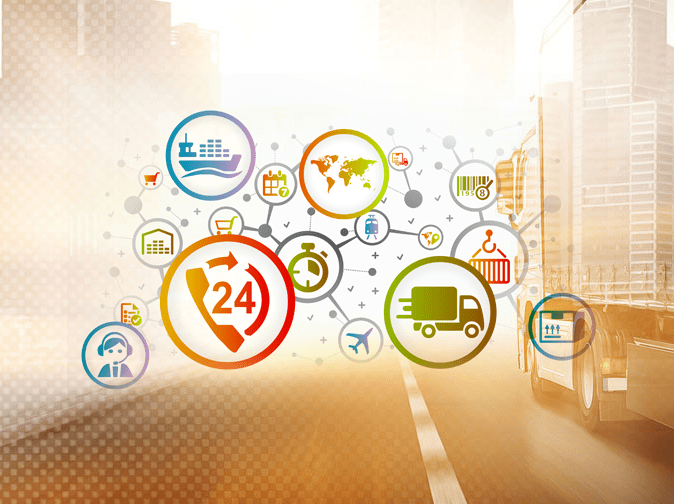 Basic functions of logistics apps
If you decide to take your business to a new level and want to enter the mobile market, you need to have a clear vision of how you want to operate on the market and what your main goals are. You need to understand what use such app will bring to you and whether it will be relevant in your particular case. After listing all these important factors, you can proceed shaping the overall picture of your logistics app to give your team of developers a direction. Pay attention to this stage as it may save you lots of time and nerves. Make sure you understand the demands of entering the market and possible consequences of such a risky step.
However, not depending on the goals you want to reach, there are some basic functions, which every app of this kind needs to possess:
Traffic information;
Location tracking;
Tools for fleet management;
Management and tracking expenditures.
Traffic information
Gathering traffic information is one of the key features of any logistics app, as it helps to reach several goals:
Increase road safety;
Calculate more favorable routes;
Implement cost effective transportation.
Due to modern GPS technologies, this function is able to support itself and become self-sufficient. It collects all the necessary data and analyzes it, following several algorithms. This helps to achieve lots of goals and reduce time and money costs, resulting in millions of dollars and hundreds of saved lives.
When it comes to traffic information collection, there are two giants on the market: Google and Yandex. The last one is mostly used in Eastern Europe, while Google remains the most powerful and handy tool of traffic collection in more than 50 countries across the world. Let us learn more about the history of Google tracking, which can be a real pattern for those, who want to create something similar.
In 2004, Google bought Zipdash and that is how the story of Google Traffic began. Now, to use this feature, you only need to select 'traffic' function on Google Maps' menu and choose the necessary area. Green color indicates that the speed is normal and the traffic is moving as usual. Yellow shows that the traffic is slower, while red means that you need to avoid this particular a. You can get information not only in a real time mode but also by reaching saved data, which shows a common traffic situation for the particular area, allowing you to predict the situation for a certain day or time. There is also data on reconstructions, accidents and so on.
You may wonder how such information is collected, because it sounds huge and requires lots of resources. Actually, there are two main sources: road sensors and drivers. When you log in to Google Maps with a turned on function of GPS, it automatically sends data to Google and you contribute to the process.
Such information describes you speed, engaging it with data from other drivers and you can get a clear picture of the road situation at an exact moment. However, such information is considered less reliable than data of road sensors, as it is impossible to predict how many drivers will enable GPS function on their phones.
There is also a brilliant example of Trucker Path, another logistic application, which allows shipping companies to locate any truck throughout the transportation chain. It allows enterprises to build the best route and avoid delays or complications during the delivery. As a bonus, it gives users a chance to see all the gas stations along the way.
Traffic information is not difficult to collect and it can be of a great use for both individuals and enterprises. Despite the presence of such important players, like Google or Yandex, you can always adjust your app to the needs of a smaller group, concentrating on new features and additional tools to occupy a necessary niche on the market.
Location tracking
Location tracking is definitely not a new tool in creating all sorts of apps. It is a way of following individuals, cargos and taxis in order to ensure their safety and predict the road situation. There are two main types of such tracking:
Satellite tracking is not so popular among individuals, as it demands lots of equipment and resources, which makes such tools less beneficial. Satellite information is gathered on such equipment and is then transmitted to the servers through radio modems.
Currently cellular location tracking is more preferable and is widely used in all corners of the world, especially in big cities, where the coverage is solid and everyone has a chance to use a smartphone with a GPS function. Everything is simple: your cell phone will send the location data to a server. If you are not connected to the network, all the data will be stored until you reconnect.
Most of similar apps gather not only information on location of the driver but also the amount of fuel or other important car indicators, which are then sent to a driver or a dispatcher. For example, DHL Global Forwarding have an app, which allows them to track cargo. It provides history of all the deliveries and can find location of any truck with all details about it.
There is also such an important feature, as geofencing, which should be considered by any developer, who wants to create an up-to-date logistics app. It allows you to distinguish a certain area or location. Every time the vehicle or cargo leaves this zone, you will get a notification on your device. In such a way, users can not only track the efficiency of all the trucks but also predict dangerous situations and protect drivers and passengers.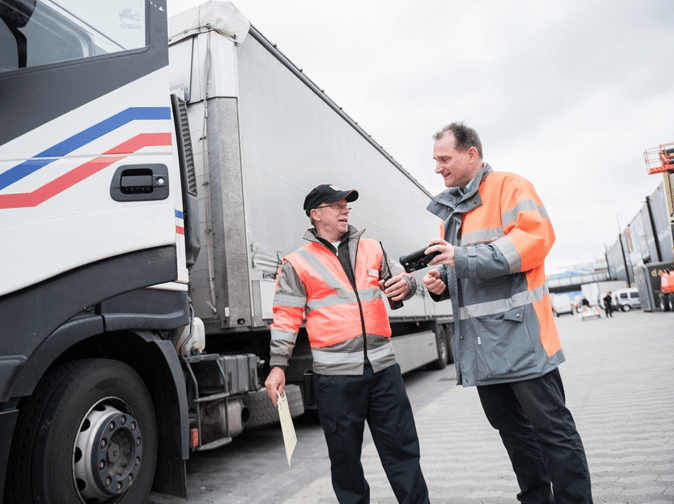 Tools for fleet management
If you are only interested in basic functions, traffic information and location tracking can be enough. You can concentrate on their main aspects, improving the strategy and adjusting the system to your personal needs. However, there are some additional features if you want to take your logistics app to a new level. One of such features is managing the fleet, which can be more than useful for both individuals and companies. The key point of such apps and functions is to increase the productivity and improve performance of the vehicle, as well as to track all the possible complications in a real time mode.
A great example of such a useful app is KeepTruckin, which is based on a system of push messages and alerts any time of the day, when something is going wrong with the vehicle. They also add information on how the driver can solve the problem or give advices on the closest checkpoints and inspection sites.
Such personal approach to individual problems is definitely a great way to show that you are thinking of every user of your app, not only concentrating on the revenues. Read users' comments on competitors' pages to see what their fleet managing apps lack and use such data to create something more powerful and useful!
Management and tracking expenditures
Shipping companies are always looking for a way to improve the delivery process, as tracking the vehicle is only a half of the success. All the companies are willing to know that the cargo is safe and protected, so you should also think of creating a tool, which will allow you to track not only the vehicle but also every individual package. This mostly applies to pricy deliveries or global transportations of huge quantity.
If you find a way to follow the equipment and load units, cargos and storages, you will definitely drag attention of companies from all over the world. However, don't think that you will need to invent something brand new. There are already two ways of managing the inventory: usage of QR codes and radio-frequency identification or RFID.
QR scanning is a great way for workers or individuals to avoid tracing numbers of parcels or cargos, saving lots of time and nerves. All you need to do is to scan the code with your smartphone and all the information will appear on your screen.
RFID method is a little more complicated and is created for enterprises and bigger companies. It uses a memory chip, which collects all the data on the item and an antenna to transmit the information to a RFID reader. Such tags can be active and passive, differing only in the read range of the signal. For example, passive RFID can be read only within 25 meters, because they are not powered by an individual source and use energy of the reader. Active tags can be read up to 100 meters.
A modern alternative to RFID is called NFC, near field communication. It allows you not only to read the data but also change it, adding new information to the tag. Although you need to be maximum ten centimeters away from the parcel.
All these tools will greatly help you to improve the delivery time and will give a chance to save costs by avoiding traffic jams and dangerous areas. Don't spare time to learn more about all the indicated features and you will surely get your share on the logistics app market.