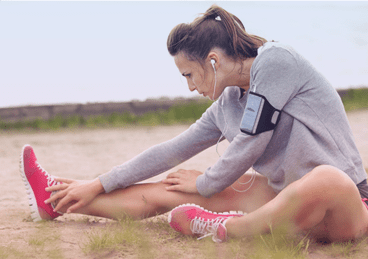 How to create an outstanding health app
We all take care about our health. We try to follow health nutrition, do regular check-ups and sometimes even go for a jog! Every day the number of self-aware individuals grows, so the market of apps for sports and health is growing rapidly.
Statistic shows that 66% of US citizens wear various tracking devices to follow their diet, control heart rate or training plan. In 2014 the mobile health market had $4 billion revenue and is likely to reach $26 billion in 2017! It is growing fast and can be a perfect niche if you are willing to create a useful and successful startup.
These apps give users a chance to monitor the intake of healthy food or separate indicators, like carbs; they help you calculate the quantity of consumed water; give a chance to control weight loss and create shopping lists according to your nutrition plan. Moreover, they can track your heart rate, pulse and other vital indicators to alarm you if something goes wrong. Such apps can literally save lives!
More and more hospitals, private doctors and other medical specialists decide to include health-tracking apps to their practice, which helps save time and create a tighter bond with the patient. So if you want to create something valuable and have a team to make it happen, below are a few tips, which may be of a great help.
Various types of tracking apps
If you have already decided that you want to launch a health app, you need to make sure that you have a clear idea of what you are going to create. Don't forget that there are different types of tracking apps, like nutrition, activity and exercise apps, so the first thing you need to do is to decide what direction you are going to choose.
Nutrition tracking apps
Diet tracking apps aim to give the user a full control over the daily consumption of calories and water, body weight, burned fat and so on. Some apps also have a deal with creating shopping lists and saving recipes, which can be shared with other users. Such community gives the user a feeling of protection, so additional features of creating groups can be a great plus for your nutrition app.
The most important feature of the app is an accurate counter, so you will need to work with really qualified developers if you want to create an app, which will track all the parameters correctly. Here are the main features, which such an app should contain:
Personal account. It is a crucial part of the app, because gives users a chance to track information and see the results. Adding various settings can be a plus, so that users can customize their profile independently;
Communication. Giving a chance to contact other users, share information and progress is a feature, which may take your app to a totally new level;
Push messages, which will remind users to have a meal/drink water or burn some calories;
Creating various lists, using databases and making the process semi-automatic. This will give users a chance to add items to the list quicker;
Bar code scanning, which gives users a chance to see information about the good they are planning to buy.
Activity tracking apps
These are probably the most popular health tracking apps, available on the market. They give users a chance to track all types of activities, which you have completed during a day. It gives information on the number of steps, speed of the run, quantity of burned calories and quality of sleep.
Users have a chance to view statistic, set goals and save information on previous data. Viewing your own progress can be a great motivation for further achievements and that is what makes such apps so popular!
Features, which activity tracking apps should contain:
Personal account to store all the information and have a chance to view statistics and progress, as well as to save maps and routes if needed;
Accurate tracker, which collects information on your weight, activity, heart rate, number of burned calories, distance and duration. You don't even need to be connected to the phone every minute! Your tracker collects all the data on its own;
Sharing data with others, which always motivates users for further achievements;
Geolocation tracking, which will help you build a route for your walk or running and calculate the distance. It may also help you find same-minded users and make new friends;
Usage of wearable devices, because they widen the horizons and are able to add many functions to your health app. A great bonus will be to integrate such devices with other programs.
Exercise tracking apps
Exercise tracking apps are becoming more and more popular, because users value mobility and prefer spending time on exercises outdoors, without being forced to go to the gym every day. Such apps give users a chance to have a personal trainer in their smartphones, choosing the level of difficulty, duration and the complexity of the training.
The market of workout tracking apps is full, however there are always ways to improve existing apps and enter the market if you have a fresh idea and a team of professional developers. All you need to do is to decide what market (iOS or Android) you want to work at and what features will be included!
Here are the functions, which should definitely be used in an exercise tracking app:
Personal account, where one can save various workouts, track progress, improve skills and share information with other users;
Notifications. Push messages will remind users about the next training and will help them exercise regularly. Reviews show that such push notifications greatly motivate them to leave the sofa and start working out;
Creating goals. Users should have a chance to see their progress, so a great option will be to set the goals and give users a chance to see the results;
Combining workouts. This feature is not present at all workout tracking apps, but it is definitely worth your attention, as it gives users a chance to create exercises, combine workouts and adjust the training to personal needs and mood.
ou should also decide what the format of the trainings would be. Some apps perform workouts in a text format, which is not very convenient and can become boring with time. Other apps have illustrations and 3D models. But the best option will always be using videos, where every user can have a look at the proper exercise performance. However, this type of app will require more investments and you will need to hire a trainer, who will work on the app together with your team of developers and designers.
How much does it cost
It is almost impossible to give exact numbers of the cost for such project, because all the apps differ according to the functions you want to include and considering the team, you are working with. However, there is an average pattern, which gives us a chance to calculate the costs you will need to create a health-tracking app.
Most companies, not depending whether they work with local or outsource developers, provide their services, including hourly prices, so the first thing you need to find out, is the bid of the company you are going to work with. For example, if you hire a US-based developer, you will pay $50 - $250 per hour, while foreign staff can provide the same services for $10-$150 per hour.
The quantity of hours also depends on the platform you are going to work with. Android applications require more time that iOS, so you should decide at once, which store you are going to hit.
For example, OffingApp will complete such a project within 2-3 months, depending on the features you want to include. These months can be divided into various processes, as follows:
Technical documentation, which allows creating drafts and specifications on your product. This part of the task will last up to 40 hours, including several meetings and phone conferences;
Design, which will require $40-60 hours to create a prototype, which you will be proud of;
Development process, which may consume up to 350 hours. We highly recommend you to hire at least two developers, which will speed up the process;
Testing and bug fixing. The testing part can last up to 90 hours, which gives our QA team a chance to find even minor mistakes and fix them. When the app is launched, our team will find bugs and fix them for free;
Project management, which follows all the processes and makes sure that all the departments run smoothly. Such manager will need up to 60 hours of time.
On the first team meeting, you will be given a detailed information on the estimated price of the project, as well as obtain access to monitoring the staff in a real time. This option will give you a chance to see how working hours are spent and won't have to pay extra money for the time, which is spent on other projects.
Get started
It is always difficult to make the first step, even when you already have an idea. Here are some tips, which will surely help you to make your first move:
Find a proper concept. Health tracking apps are unique in a way that they are created for specific goals and users usually know what they are looking for. That is why you will need to impress them, offering a solution. A great interface is not enough, so you need to spend time on understanding what your concept will be. Don't create an app, which will only calculate the amount of carbs or the distance of your walk. Suggest some solutions, like recipes, containing low levels of carbs or a new route for your next jog;
Contact specialists. If you are not a doctor and don't know much about the industry, it is important to contact a person, who is well aware of the subject. He will give you information about the main aspects to focus on, as well as test the product and add fresh ideas. You can also include 'specialist recommendations' to your app, which will surely make it more significant;
Concentrate on usability. Even the best idea can fail if you neglect tests on multiple devices and platforms. Make sure that the interface is clear and simple, and that the app runs smoothly not depending on the quantity of running processes;
Protect personal data. Users are always concerned about safety of private information, especially when it comes to health issues. Give them a chance to feel safe and secure by providing passwords and timeouts;
Keep track of changes in specifications. Medical applications should follow FDA rules and guidelines to avoid possible consequences. Make sure you are always aware of the latest changes and news if your app gives diagnosis or offers treatment. This will help you prevent possible complains;
Integrate with other apps. Many health-tracking apps don't have such an option but reviewers find it very useful, because it will give them a chance to get an overall idea of their health state, nutrition and exercises.
Popular fitness tracking apps
It may be more than useful to learn more about successful stories and see what made them so popular among the users worldwide. Here are a few apps, which definitely create a trend and make millions of users want to have them on their smartphones.
Tep
Who doesn't like tamagochi? Developers of this outstanding app decided to connect tamagochi and fitness tracking, so any user can improve their pet giraffe by completing exercises, like running, walking or cycling. Completed tasks bring them necessary coins, which can be later exchanged on treats for the pet. Founders state that the biggest motivation is the fact that your pet won't suffer if you complete your daily workouts regularly.
Wokamon
If you are a fan of pets and various creatures, Wokamon may be a great idea for your start-up. The monsters of this app grow together with you and the platform uses various wearable devices, so every calorie will be counted and used to feed your pets. This app also allows users to communicate via chat groups to earn rewards and unlock new monsters.
Teamster
We all love engaging in groups and sharing hobbies with same-minded users. That is why founders of Teamsters created an app to give us such an opportunity! It helps users to find people with same interests nearby. You can select the type of activity, as well as the level of skill to match with your own preferences. This app can be called Tinder for fitness and you simply add people to your team by swiping their page right.
Perspyre
This app was launched in 2015 and since then has gained popularity of advanced users around the globe. It is available on both Android and iOS platforms and doesn't require registration. One can simply log in using Facebook account. Perspyre was created for motivated people, who already have basic sport skills. It allows users to share selfies, keep track of the workouts and discuss personal achievements.
Creating a health-tracking app can be a challenging task, which requires lots of additional functions and detailing. You will need to read multiple reviews to get an overall idea on the weak and strong sides of your competitors to see how you can benefit from their flaws.
However, this market is growing and still has enough space if you have a brilliant and fresh idea. Working with a team of professional designers and developers, you will surely implement your dream into reality and will become the leader on the market of health tracking apps.