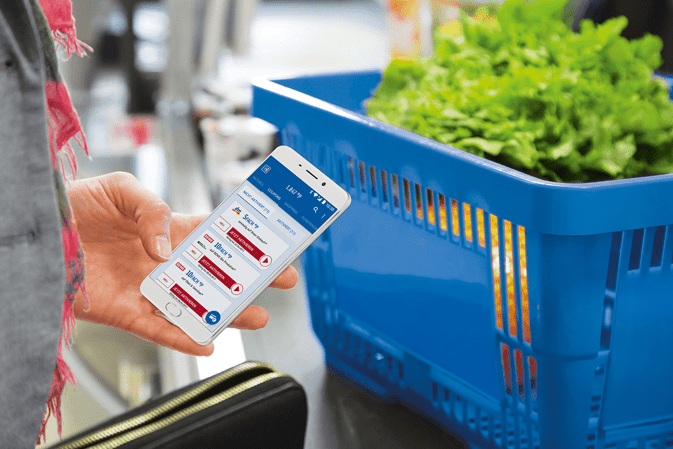 Modern need for a shopping app
It is difficult to imagine a person, who doesn't like shopping online. In our fast-moving world, it is crucial to have a chance to save time, so more and more people prefer using shopping apps in order to avoid long drives to the malls, standing in queues or spending extra money.
According to statistics, two out of three customers use their mobile device, when they go shopping. They use various shopping lists, apps with coupons and discounts, review apps and so on. The variety of such apps is amazing and billions of users worldwide have discovered all the benefits of such services.
Can you imagine your life without eBay, Amazon or Wish? These are only the most popular names but they reflect the overall tendency: every day billions of purchases are made through internet and it would be crazy to stand aside and watch how others make millions!
The market of shopping apps is growing rapidly and has doubled, compared to the previous year. On one hand, it is the evidence of a high demand and you can easily enter the market if you have an idea of an eCommerce project. However, presence of market giants will make the process difficult, so you should have a really fascinating idea to have a chance to find your niche on the market of shopping apps.
Once the shopping websites were adjusted to mobile phones, a totally new era began. According to Google ZMOT study, 80% of the mobile purchases are spontaneous and 90% of users hop between screens to complete the purchase. Such a positive tendency helped the online shopping market make $115 billion revenue in 2015 and will make much more in 2017. That is why this sphere is definitely worth to be discussed.
It doesn't matter whether you want to create a store for your already-running business or want to create something new: our article will give you a detailed information on the subject and you will have a chance to learn more about the world of developing online shopping apps!
Features of a shopping app
When you want to create an app for customers, you need to pay careful attention to their needs and desires. The best way to do it is to consult the reviews of already-running apps in order to avoid possible mistakes. Below is a list of the best and the worst features, inherent to shopping apps.
Features, which attract customers' attention:
A chance to save money. One of the most popular features of such apps are coupons and loyalty programs, which allow users to reduce their expenditures. Connecting to the global network gives users a chance to download discounts, complete simple actions, play games in order to find the best deals, and so on;
Reminders of shopping lists. This feature is widely used in apps with lists. For example, if you want to go grocery shopping, the app will send you a standard list of products, which usually run out by the end of the period. In such a busy world, it is great to have something, which will remind you to buy milk or butter, isn't it?
Money tracking. Despite a need in shopping and spending money, most respondents want to know how much they have already spent, so such tools can be more than attractive if you want to widen the target audience.
Features, which are not important:
Real-life tracking. Many apps seem to find it very useful to add geo-tracking to any app they launch. However, most people don't want to share their location and are seriously concerned with these features. On the contrary, such tools may be useful for those, who are searching for the best deals around and can receive push messages if something interesting is taking place nearby;
Using social media accounts. It is more than common to sign in only by using your personal account on social media pages. However, users said that this feature is not important at all, so you can clearly avoid spending time and money on this tool;
Surplus of features. It seems that many developers try to stuff the app with as many features as possible, although users don't want to waste time scrolling through meaningless options and tools. The simpler is the better, so you should always stick to your initial goal and make the app easy and clear.
Using customers' reviews will be of a great help and you will have a chance to improve your competitors' strategies. In addition, you can spend some time and money on a marketing research to find out what the target audience wants, which will greatly contribute to the duration and final cost of the development process.
Strategy of shopping list apps
If you visit a trade center or a market, you will notice how many people use their phones in order to buy everything they need. The times, when we needed to make lists on paper, has long gone and now it is simpler to create virtual lists on our devices not to forget anything.
Shopping list apps can be a great example of a successful shopping app strategy that is why we will try to give you an insight to the variety and usage of such apps.
There is quite a vivid classification and all the apps can be divided according to their functions, target market and types of entering the data.
Functions of shopping list apps include:
Lists;
Coupons, discounts and loyalty programs;
Barcode scanners;
Reminders and alarms;
Delivery of the purchase.
Shopping lists are connected to your own library and can be uploaded to the global database, so you won't even have to enter the whole name or word. Moreover, the program will save frequently used products, so you will be able to add the items in one click the next time you will want to go shopping. An additional and useful feature of such apps is a chance to share the lists with members of the family or other connected users. You will get an immediate notification if someone has edited information from the list.
Coupons, discounts and loyalty programs are available on multiple apps and aim to show the user all the best deals of the shops he is interested in. These deals can be added according to geographical location, personal preferences, current list of purchases or history of previous shopping. There are also apps, which engage multiple stores and alert the user if a new deal appears.
Barcode scanners give users a chance to learn everything about the product. It is more than convenient if you are shopping for big items and simply add them to your virtual basket without a need to carry them around the store with you. Another benefit is a chance to get all the information about the nutritional value or producer of a certain good. It is especially important for those, who follow healthy nutrition, have specific demands or health conditions. All you need to do is to aim the phone at a bar code and the data will appear on your screen immediately.
Reminders and alarms give users a chance to manage all the purchases without forgetting anything. They usually come in a shape of push messages or notifications, so all you need to do is to have a stable coverage.
Delivery is also becoming one of many important features, which drag customers' attention, because it allows saving money and time. As a bonus, you can combine delivery from various shops and the whole purchase will arrive in a matter of an hour. Such apps work with biggest stores and malls, so you will have plenty of services to choose from.
Types of data input consist of:
Manual and autosuggestion, when the user adds items on his own or uses the library;
Barcode scanning or usage of photo images;
Combination of the above.
Shopping apps on the market
eCommerce is a community, which engages sellers from around the globe and has placed firm positions among the most profitable sectors of online market. It offers lots of possibilities and any user has a chance to become a real doer simply by forming a winning idea into a shape.
It is always important and useful to learn from the best, so we will analyze Wish and Throne, shopping apps, which had occupied leading positions on the market and continue increasing their revenue rapidly.
Wish, Google AdWords for the retailer
Wish occupies leading positions among online shopping giants, outstripping Walmart and Groupon. It is an app, which connects sellers with buyers around the world and stores more than 100 million accounts of customers, who are ready to buy from more than 100 000 sellers.
It is popular not only because of lower prices but because it is universal and one can find anything he needs in one place, without attending multiple stores and spending a fortune on mass-market items.
Here are the key features, which help Wish remain leaders in the field:
Mobile-orientation. They had focused on the mobile users from the beginning and didn't have to adjust heavy websites to smartphones. Such a smart move drag million target audience to the app;
Pricing policy. They sell affordable items and always try to reduce costs by shipping items directly from distribution spots or offering discounts;
Flexibility. You can log in to the website in a matter of seconds simply by using your Facebook or Google+ account. Users love saving time.
You need to keep in mind all these features if you are willing to create a worldwide shopping app. However, there are some tools, which Wish lacks and you can easily benefit from them. First of all, you can improve the delivery, which usually takes more than a month. By cooperating with a third-party delivery, you can significantly reduce time consumption.
As a bonus, you can add such tools as fitting rooms and combining sections, where you can virtually try some looks on and combine various outfits. Additional features may include blogs and personal reviews on purchased items, comparison of products, a chance to send gift cards and so on.
Remember that idea always comes first and you won't be able to develop a shopping app without a clear picture of what you have to offer. The key to your success always lies in the ability to adjust your cravings to the demands of the market.
Throne, a marketplace for experts
Unlike Wish, a shop where everyone can buy affordable goods, Throne is a place, where users can buy, sell and get additional information on rare sneakers. It was initially created to engage people, who love sneakers and want to share this passion with same-minded users.
This app is a great example how an idea with limited target audience can become profitable: Throne has more than 300 thousand active users, who communicate via various platforms and use Throne iOS-based app to complete the purchases.
Here are specific steps, which helped Throne became a profitable and fast-growing app:
Personalization. It was important to give users a chance to create personal pages, engage into groups and share same interests. Additional option of logging in through social media account helped to enlarge the audience. In addition, vendors and users were separated in order to have a clearer vision of the future strategy and achievements;
Visual effects. The key idea was to create an app, which would instantly drag users' attention. The decision came with an animated screen, which increased the duration of every session and proved its usefulness for the end user;
Multiple in-app interfaces. It is important to give users a chance to share their pictures and likes, so Throne added various functions like trading, offering, buying, commenting and sharing the sneakers you like;
Custom-screen filters, which helped users to sort the advertisements according to key words, brand, model, price, size, condition, location and color;
Summary of the order, which makes the user feel comfortable and do not worry that he will pay for the order without confirmation.
If you want to create a similar app, you can add various features to make it even brighter. For example, a referral program can be of a great use, where all the discounts or bonuses will be stored. You should also pay careful attention to marketing the product, as it plays a big part in the overall results of your launch.
Think of the methods, which may increase the traffic and constant downloads. Spend time and money on promotion, online reviews in blogs or forums, taking part in different conferences and so on. The more people will learn about your product, the better your start will be.
With so many features and details to consider, it may be very difficult to understand where to start the project. You should always remember the golden rule: your idea should fulfill the demands of the market, so spending some time on research and analysis will play an important part in the development process. If you lack ideas, just study the market and review comments to see what the market of shopping apps needs at this exact moment.
Don't hesitate to become a part of the eCommerce community, as it is growing rapidly and has lots of space to store everyone, who is ready to work hard, create outstanding ideas and top-notch technologies.