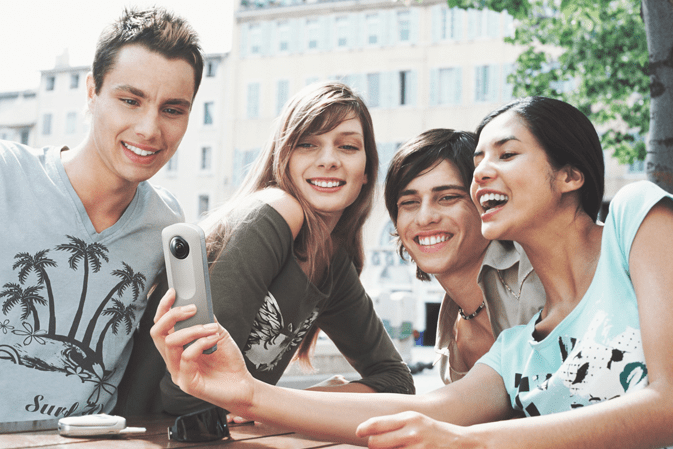 Building a social media app from scratch
Communication is an essential part of our everyday life. We love sharing information, learning something new from others and getting news from the people we love. With the appearance of Internet, it became much easier, even if you live in different corners of the world, and statistic shows that the number of active Internet users is growing daily. By 2020, there will be almost 3 billion active social users and communities. Isn't it a great niche to occupy?
The habit of using social networks has created a totally new culture of cooperation, motivating people from all over the world to share their thoughts and ideas. It is also a great chance for relatives and friends from different countries to communicate on daily basis. That is why users spends lots of time on social media apps every day and the tendency is overwhelming.
Statistic shows that motivated social media users value such apps because they have a chance to communicate with people they are interested in, as well as to obtain information on what those people are doing. It is also a great way to stay updated on the latest news and events. Some respondents stated that it is a great way to share opinion and personal videos or images. Moreover, for many users it is a chance to meet new people and do the networking. Considering all these facts, it is impossible to overestimate the importance and influence of social media apps on everyday life.
Many people may think that creating a new social app is a failure, because of presence of giants on the market. However, modern times dictate new rules and trends, and it becomes more obvious that people start valuing privacy. The times, when everyone shared his or her thoughts and data with the world, has long gone. Nowadays users prefer creating private accounts, sharing information with the limited circle of friends or relatives. And this trend is creating new opportunities for developers around the world.
It doesn't matter whether you are going to develop a social media app from scratch for a huge community or for a limited group of people, or you will want to expand your business through the app: there are a few tips that may help you during this challenging and interesting journey.
Tips to create a social media app
Although creating a social media app seems a difficult task at first, here are some rules and clues, which may be useful for any developer:
Avoid cumbersome registrations. Nowadays users value their time and want to get maximum information for a limited period of time, so the best option is to reduce the number of steps and have a 'connect with' function. Users have already left their data on various web-sites, so it will be a salvation for them not to do it again;
Give users a chance to show imagination. Almost every user loves creating profiles and personalizing them. There is nothing worse than offering plane faceless profiles. Give users a chance to show their creativity and customize their account!
Privacy always matters. Users value a chance to have private conversations and get a possibility to store data with limited access. You need to think about built-in features, which will secure such privacy. Statistic shows that such services always drag users' attention;
Cooperation with other services. It is always useful to give users a chance to hop from one app to another, without a necessity to choose only one of them. Such services can be divided into interaction networks (like Facebook or LinkedIn), media sharing networks (YouTube, Snapchat), review sites and forums, social publishing platforms, interest-based sites and so on. It is important to find the target audience, based on similar interests or hobbies;
Organizing a newsfeed. We all love sharing information with the world, so it is important to think thoroughly how this process will be organized on your app. Users should have a chance to mark their location, share images, videos or content from other pages.
Remember that you are doing the app for the users: live people with their interests, worries, hobbies and dreams. The best option will be to spend time and money on evaluating the market, asking for users' opinion and preferences. Make sure that your app will be interesting and useful.
By following all these advices, you will surely get attention of the users and will create a social media app, which will occupy solid positions on the market. Moreover, working with us will give you an advantage: we have profound skills in creating social media apps and know exactly how the process should look like!
Steps to develop a social app
As any development process, creating a social app requires lots of skills and time. Before starting the work, you need to have a clear idea of how the whole process will look like. Here are the main steps, which comprise the development process:
Developing the strategy. On this stage, we work with your requirements and the market. To get a clear picture of the future app, we need to analyze the target audience, learn about its needs and desires. We make a list of key features and goals, which should be achieved by creating an app. In such a way we will have a direction and will know how to personalize the project;
Design. It is one of the most important stages of the social app development process and requires much attention and time. First, the sketching part is completed. You will have a chance to see simple drafts and evaluate whether the picture corresponds with your ideas. When the sketches are approved, the app is visualized to give developers a chance to understand the logic of the process. Later the prototype is created to add latest features and give users a chance to test them;
Development and testing. Usually our development team and designers work on the project simultaneously, so as soon as the prototype is ready, our developers set up servers, APIs and add all necessary features. You will be the owner of the latest social media app with modern features and top-notch technologies. When this stage is completed, our QA team tests every segment of the app to see how it works;
Marketing and support. We work not only with creating the app itself, but also with performing it on the market. It doesn't matter whether it is an iOS or Android app, we will make sure that it occupies leading positions in the store. Our marketing specialists work with promotion and advertising, as well as with launching the app. Moreover, we are always ready to help you after the app is launched and fix the bugs if any problems arise.
When the app is on the market, it is important to track the statistics and make sure that you get all the information on your app. There are some tools, which may be of a great help:
Level of costs. It is used to calculate your spending on the app, like marketing, salary, servers and so on;
The duration and interval of sessions, which shows how much time users spend inside the app and how much time passes before their return to the app again;
Daily/weekly/monthly growth of new users;
Churn rate, which shows the number of users, who stopped using your app. It is more than important, especially after launching new features or improvements;
Activation rate, which shows the ratio between downloads and activated accounts.
Our company has been providing development services for many years and we know exactly how these tools should be used. Moreover, we are always ready to share our experience and knowledge to contribute to the development of online app market.
Features of a social network
We have already discussed the tips to help to create an outstanding social media app and the steps of the product development, so it's time to reveal the key features that distinguish a profitable social app.
Of course, they may vary depending on your demands and the goals of the project but there are five main tools, which should be added to the app in order to make it attractive for any potential user:
Newsfeed;
Inbuilt payments;
Messenger;
Marketing tools;
Event planning.
Having such feature as a newsfeed is probably one of the most important components of the social media app. It gives every user a sense of involvement. With the help of a newsfeed, users get a chance to share their opinion with the world and become a part of the simple-minded community. A newsfeed can also have additional tracking and sorting features, which also gives users a chance to filter information and feel the power of managing their own feed the way they want.
If your social media app aims to become a part of your working business, it is important to add such features as inbuilt payments. You can use such features as tools for donations or paying for membership. It is a great way to make the app even more profitable. Our company is ready to add such tools to your app in a safe way, without any data loss.
Having a messaging feature on your app is probably one of the most important tools and requires careful attention. It is a great tool for users to keep their communication privately either through private messages or by creating group chats or contact lists.
Marketing tools are created to help you evaluate the interest of the target audience, as well as motivate it to complete various actions, like buying something or redirecting to other websites. There is also a chance to use push notifications and create various instruments to track users' activity.
Event planning tools are more than important if you want to create a stable and engaged community. It will give users a chance to create special pages with events, adding notes, notifications and inviting people.
How much does it cost
You already have a clear picture about the importance of social media apps, their key components and steps to create an outstanding app. If you are willing to get involved, this may be a part of an article, which will give you insight to the practical part of the subject.
The prices of development of any kind has never been low and it is important to understand that working with a qualified company will surely take a big part of your budget. However, here are the good news: global social media revenue accounted $ 58 billion in 2016 and will approximately reach $77 billion in 2017!
It is important to understand that there are multiple ways to calculate the expected price and it can vary depending on the duration of the project, the company you are hiring, the features you want to include and so on.
First, you need to understand what departments you want to work with and estimate the number of hours each professional will work on the project. Here is an approximate list of hours for every stage of creating a typical business app:
10 hours for management;
8 hours for design;
12 hours per one platform development;
10 hours for testing and bug fixing;
5+ hours for creating technical documentation.
According to these time expenditures, you can calculate an average price, depending on the country you are working with. For example, US based IT teams charge $50-$250/ hour, East Europe - $30-$150, India - $10 -$80.
However, if you want to get the overall picture and don't want to spend much time on calculating the price depending on the quantity of hours spent, here is a list of prices for various types of social media apps:
Blog. If you want to promote your business through a blogging platform, be prepared to pay $1,000 - $12,000 per month. If you are going to hire professional writers, each blog post will cost you $50 - $500 depending on the subject;
Twitter and Facebook pages will cost you $2,000 - $9,000 per month for dragging attention of the audience, adding content and new posts;
Full social media strategy, which includes outsourcing of content, design and maintaining the platform, may cost $3, 000 - $20,000 per month.
As you see, the prices vary greatly and you need to be sure that you follow a few simple rules to make the best deal:
Don't pay for the name. Of course it is better to entrust the task to a popular company but it doesn't mean that it has the skills you are looking for;
Make the company prove the negotiated price;
Ask around to get the best deal.
Creating a social media app is both challenging and fun. If you want to enter this market, you need to be sure that you understand all the risks and difficulties that may arise. However, if you risk, you will see how beneficial for any business is to be closer to the target audience. With the help of a professional development company, you will occupy leading positions on the market and create a profitable business, according to all market laws and expectations.